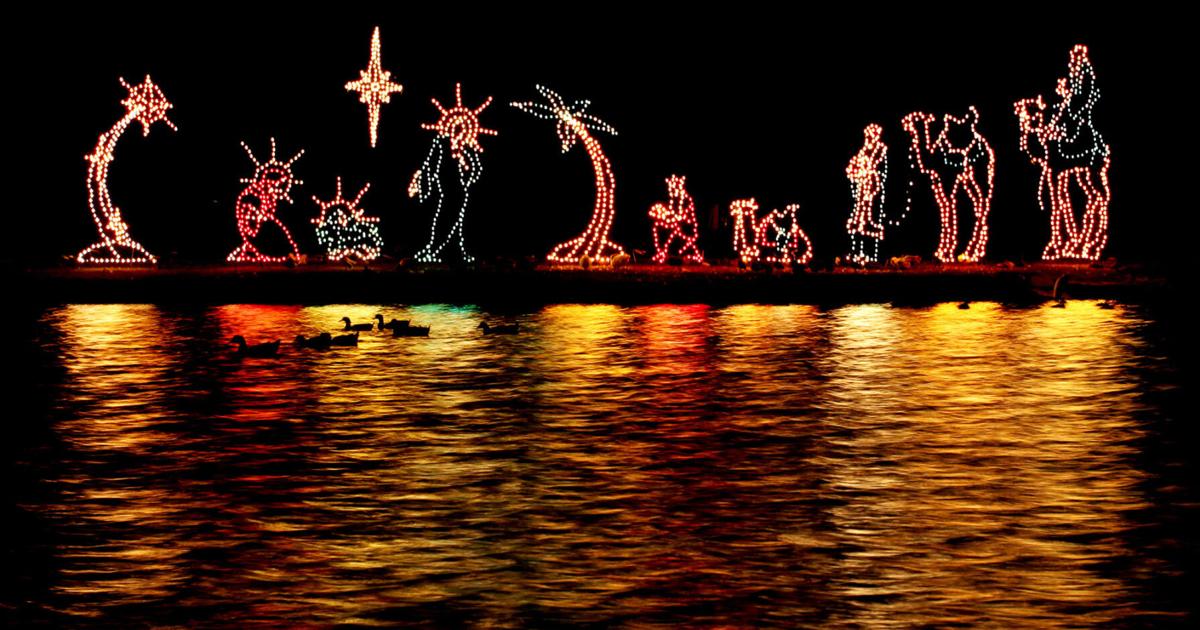 Cuero's Christmas in the Park began 22 years ago with a simple lighted gazebo in the city park.
Then the following year it exploded with colorful displays which continue to increase to this day.
The annual Christmas festivities, which open on November 21, feature more than 250 illuminated Christmas displays. Most were purchased by families to honor living and deceased loved ones. Others were purchased by civic groups and neighborhoods, among other groups.
"It's just beautiful. There is something very magical about seeing all the lights," said Maggie Cromeens, executive director of Cuero Development Corp. "It makes you feel better when you see the lights.
The display grows every year. New this year are a 3-foot tall presidential snowflake, ornamental tree, 4-foot silhouette set, leaping frog, celestial angel with trumpet, lighted mistletoe, and angel with heart purple.
The new scenes will be mixed in with other animated exhibits ranging from snowflakes hanging from the many trees to Santa Claus and elves, butterflies and deer to the big Twelve Days of Christmas and the stagecoach and horses of Wells Fargo.
Crowd favorites are also back – Sassy the Sea Serpent, the River Boat, the Christmas Tree made from the Flagpole and the lighted Poinsettia Arch at the end of the course.
The December Events Committee, part of the CDC, began work on the exhibit ahead of Turkeyfest. In addition to the committee, the workers include city employees, volunteers and trustees of Clarence Stevenson State Prison.
Back for its second year, the famous old airport photo booth sits at the end of the exhibit. The committee set up the photo space last year to provide visitors with a safe place to stop and take photos, as people liked to get out of their cars to take photos, which caused vehicles to stop and created security issues.
The photo booth will be open the evening of the opening and then on Saturday. The selfie area will include a snowman bench and a polar bear bench, Cromeens said.
Another special attraction that is making a comeback is the popular hot chocolate nights. Every Thursday, a hot chocolate will be served to visitors. Drinks are free, but donations are accepted, Cromeens said.
The Christmas Tour in the Park attracts tens of thousands of visitors from across the state each year. Until this year, they did not officially track visitor numbers. This year they will have a clicker that will track the number of vehicles that pass through the park
The visit is free, but donations are accepted at the end.
The money raised each year is reinvested in the exhibition for lighting, repairs, security and new stages.
Tips for newcomers, expect long lines and a wait to enter the park, but once inside traffic is smooth. Take the slow tour and enjoy the sights and sounds of holiday cheer.
Becky Cooper is editor of the Victoria Advocate. She can be reached at [email protected] or 361-574-1285.