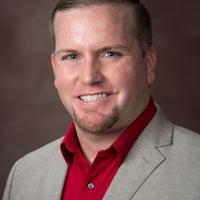 Recently, a staff member at the University of Houston-Victoria was named a member of the National Association of Student Personnel Administrators Region III Board of Trustees.
For the second time in six years, Michael Wilkinson, UHV's Senior Director of Student Services and Legal Affairs, will serve a two-year term as the association's Professional Programs Co-Chair. He held this position for the first time from 2018 to 2020.
"I am honored to be chosen again to serve on the NASPA Region III Board of Directors," said Wilkinson. "This position allows me to work behind the scenes to ensure association members have a positive experience at professional development events so they can learn and bring back techniques to better serve their students. I believe that people who serve in these types of volunteer roles are the foundation for creating effective, student-centered learning communities. »
NASPA is an international organization made up of student affairs professionals. The association aims to equip and support higher education professionals so that the students they welcome can succeed. Association Region III includes the states of Alabama, Florida, Georgia, Kentucky, Louisiana, Mississippi, North Carolina, South Carolina, Tennessee, Texas and Virginia.
In his role as Chair of Professional Programs, Wilkinson will focus on selecting sites for conferences and other professional programs for members to receive professional development training, such as the New Professionals Institute and the Mid-Managers Institute. Additionally, his responsibilities will include attending board meetings, liaising with the Southern Association for College Student Affairs on joint initiatives and programs, facilitating event site proposals and director applications. institute, providing professional program reports to the board and more.
"I'm thrilled that Michael got this opportunity," said Jay Lambert, UHV's vice president for student affairs. "He is being given a very important role and I am sure he will bring the same level of excellence to it that we see here at UHV."
Wilkinson sees service in the association as an opportunity to give back and invest in other student affairs professionals, just as others have encouraged and supported him throughout his career.
"I got into student affairs because people I knew and trusted told me I would be good at it," he said. "Now, I am very proud of the work I do every day in my position at UHV, and I am excited to have another chance to help others in my field. I want to give back to student affairs professionals and show them that this is an area where they can both earn a living, have fun and make a difference in people's lives.
As a first-generation college graduate, Wilkinson has first-hand knowledge of the importance of educating students about the resources they can access through student affairs and professional offices. He came to college with less knowledge of how the system works and what resources might be available to him.
"There are so many college students today who are the first in their families to participate in higher education," he said. "I remember how lost I felt, mostly because I didn't know what resources were available to me, let alone where to look for them. Now that I work in student affairs, I want to make sure students have the opportunity to use the resources that are available to them and get the support they need.