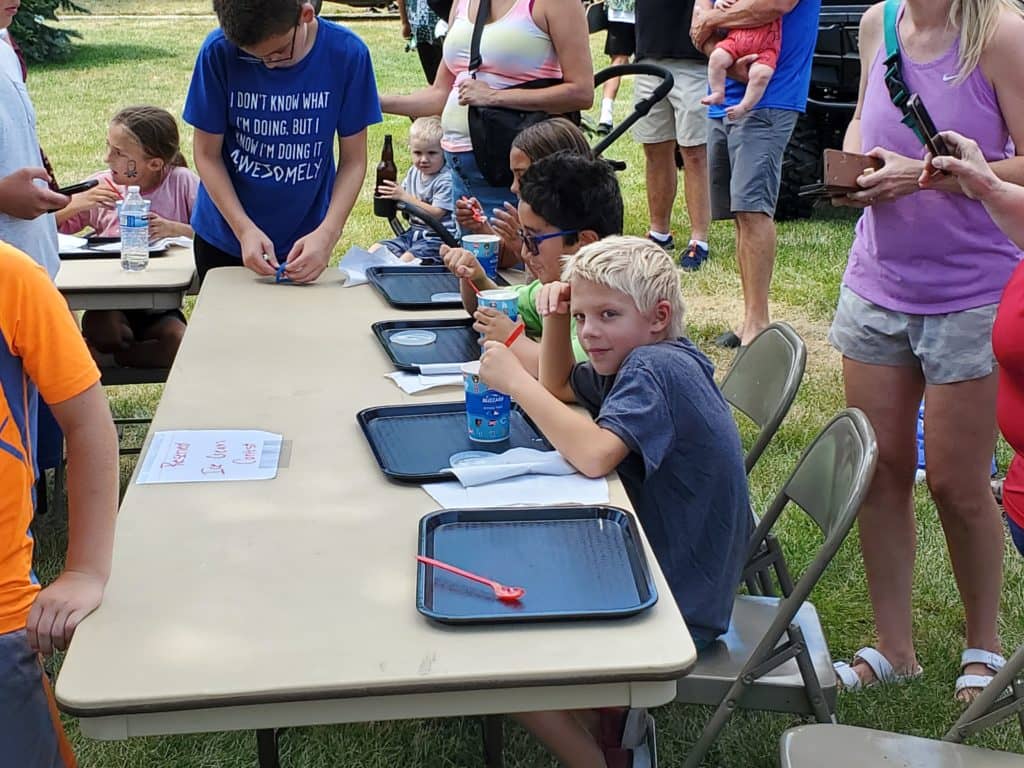 Above: A local youth takes a break as he battles 'a brain freeze' during the Saturday afternoon ice cream eating contest. Below: Fremont Mayor Joey Spellerberg plays drums Friday in the Chautauqua tent. Bottom: Members of the 2022 John C. Fremont Days Board of Directors.
—
The 2022 version of John C. Fremont Days is on the books, and board chairman Barry Reker believes it was a success.
"I think overall it was a pretty good festival," said Reker, who also portrays John C. Fremont during the three-day event. "I haven't heard too many complaints at all. There were only a few and they are easy to fix. But otherwise it looked like people were having a good time.
Reker said attendance for the two-night rodeo was up from last year. The annual car show attracted 445 cars, trucks and motorcycles.
"It was a banner year," Reker said. "They had a little problem with the computer system, but that's what happens in the world of technology. The show continued and everyone was done with it.
The park was also a hub of activity as 98 vendors, including those selling food, greeted festival-goers.
"I think we brought back some of the old vendors because people want variety," Reker said. "I think we definitely had that. We also had bouncy houses and that kind of thing for the kids to play with.
Reker credited Connie Dostal, owner of Kiel's Barbershop, with helping the park thrive.
"She is our municipal park manager and she has done a fantastic job as well as Mike Roth who is the food court manager," he said.
One of the sellers was Karen Gomez from Lexington, Kentucky. Although Gomez travels to different events across the United States to sell t-shirts, this was his first visit to Nebraska. She said she heard about John C. Fremont Days through a festival website.
"I love it here," she said. "The city is beautiful and the kindness of the people reminds me of home. Some states you go to and people are kind of shut down and they don't want to talk, but here everyone is very welcoming.
There were also inaugural events for the festival including the Rise & Shine Fritter Eating Contest, the Ice Cream Eating Contest sponsored by Fremont Dairy Queen and the Debby Durham Family Foundation and the Backyard BBQ Contest sponsored by WholeStone Farms and Lincoln Premium Poultry .
"The Apple Fritter contest may have been a bit too early in the morning (8am on Saturday), so we might consider moving it back an hour or something, but it went pretty well," Reker said.
The ice cream contest had various divisions, including at the youth level.
"It was a really fun contest that Charlie Pleskac of Dairy Queen put on," Reker said. "People had their brains frozen. It was quite hilarious.
Reker said there were nine entries in the barbecue contest, but one had to drop out due to COVD-19 and another was sidelined due to surgery.
"We didn't get as many sign-ups as we wanted, but everyone I spoke to said it was pretty good for the first year," he said. "It will grow."
The public, however, showed their appreciation for the $5 taste tests and the "people's choice" vote.
"I just knew we would be inundated for the people's choice," Reker said. "Everything was gone in 15 to 20 minutes."
During Thursday night's opening ceremonies, Reker told the crowd that John C. Fremont Days won the Omaha Choice Award for Best Local Annual Family Event. He said the honor is due to the work of many groups.
"To get something as big as this says a lot about what the board is doing, but I can't say it's just us," Reker said. "There's the City of Fremont Streets Department, the Parks and Recreation Department, the Police Department, the (Dodge County) Sheriff's Department, I can go on and on. It takes the whole community to really make this festival what it is.
Preparations for the 2023 festival will begin almost immediately.
"We have what we call a Tuesday night retreat," Reker said. "We talk about things that have worked and things that may not have worked. The council strives to make it a great festival for everyone. We want to make it even bigger and better next year.