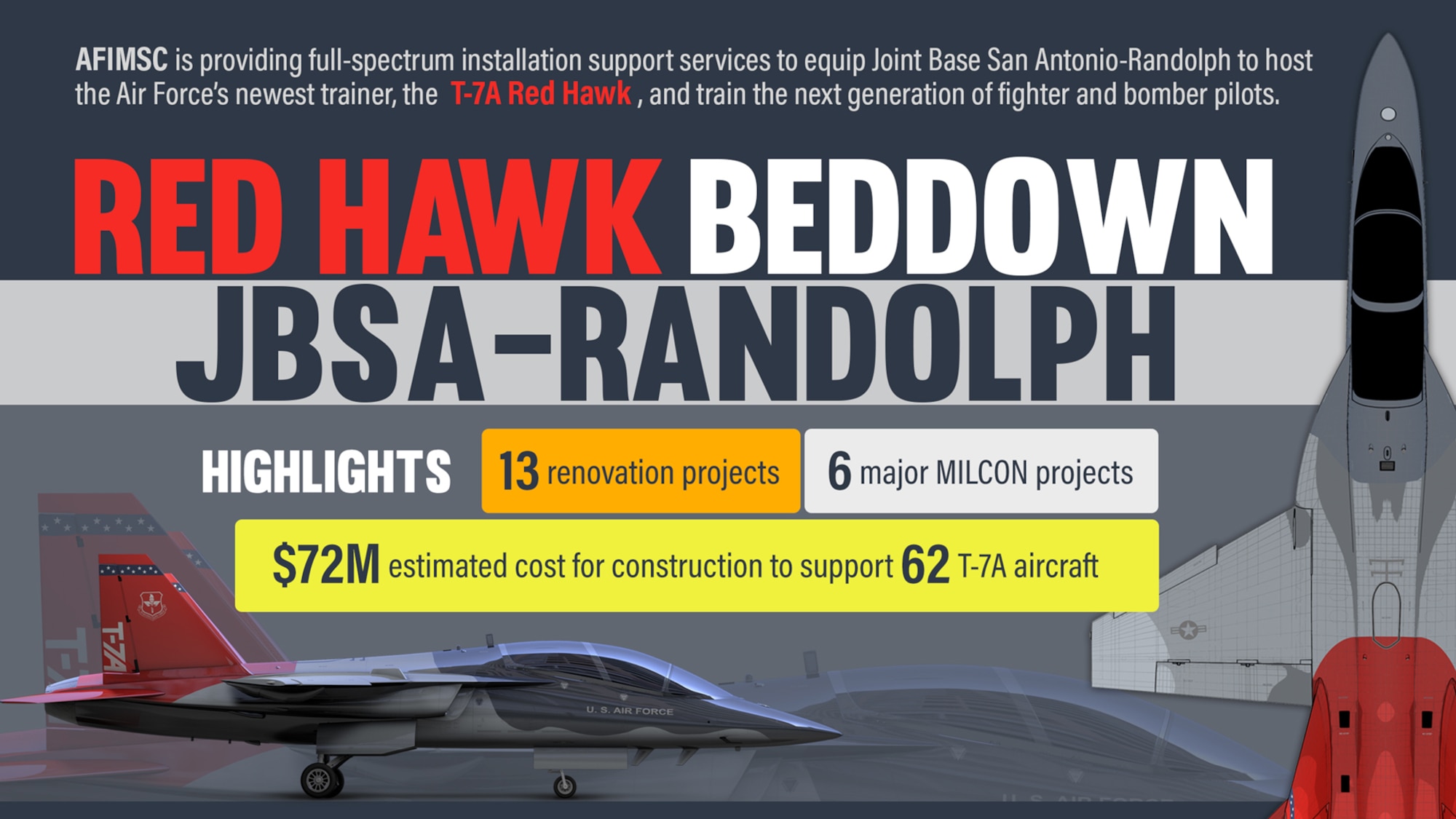 JOINT BASE SAN ANTONIO-LACKLAND, Texas – The Air Force Mission Installation and Support Center has the green light to move forward with major construction work to support a new aircraft assembly and training mission at JBSA-Randolph , Texas.
The Air Force signed a Record of Decision (ROD) recently after completing an Environmental Impact Statement for major construction work to provide the infrastructure needed to support the T-7A Red Hawk. The fifth-generation trainer will replace the Air Education and Training Command's aging T-38 Talon fleet with state-of-the-art technology for the next generation of fighter and bomber pilots.
"The arrival of the T-7 Red Hawk at Randolph is part of a critical capability to provide an advanced training platform for U.S. Air Force student pilots. Randolph instructors will develop the aircraft and its system ground training to provide high caliber pilots to fly, fight and win," said Brigadier General Eric Carney, AETC Director of Plans, Programs and Requirements.
The aircraft will be delivered to the 12th Flying Training Wing, which is responsible for four single-source aviation pipelines, including instructor pilot training.
The Air Force Civil Engineer Center, a primary subordinate unit of AFIMSC, oversees environmental impact assessment processes to ensure Department of the Air Force projects meet National Environmental Policy Act (NEPA).
EIS is NEPA's most rigorous level of impact analysis, said Nolan Swick, program manager for AFCEC's NEPA division.
"Establishing a new mission, especially a new aircraft, is a large-scale project," he said. "There are usually major construction works, so we look at the impacts on all environmental resources, such as natural and cultural resources, we consult with our community partners and tribal nations, and we work with regulatory partners to find solutions. ways to meet mission requirements and mitigate impacts. to the environment."
AFIMSC Detachment 7 and the AFCEC environmental team are working with the AETC to analyze potential impacts for five facilities that are expected to house the new trainer and a depot location; JBSA was the first to perform an EIS for the T-7A recapitalization. As a publication, an EIS project is underway at Columbus Air Force Base, Mississippi; the team is in the early planning stages at Laughlin AFB, as well as the future T-7A depot at Hill AFB, Utah, and initial planning for Vance AFB, Oklahoma, and Sheppard AFB, Texas, is scheduled for 2023.
For JBSA, the approved ROD means AFCEC's Facilities Engineering Directorate can move forward with plans to refurbish 13 facilities and build six new facilities to support 62 T-7A aircraft. , the first of which are expected to arrive at the facility in 2023.
The estimated cost of delivering the T-7A infrastructure to JBSA over the next 5-10 years is $72 million.
The Fort Worth District of the US Army Corps of Engineers is expected to award the first three military construction projects over the next six to eight months, said AFCEC project manager Howard Steck.
"We expect to award approximately $45 million in design and construction contracts over the next few months," Steck said. "A project of this magnitude requires effective planning and strong teamwork – and we have both."
The AFIMSC provides the AETC with a business view of the requirements for setting up the Red Hawk training mission beyond the JBSA. In February, the AFIMSC Installation Support Directorate completed an analysis of hangar space capacity, aircraft maintenance operations and support facilities, base support services, data on property and facility category codes at Columbus and Laughlin AFBs. This information helps the AETC and AFIMSC support teams ensure that planning, programming, construction designs and cost estimates conform to authorized requirements.
Company-wide, AFIMSC plans to spend more than $562 million to provide the infrastructure to support 350 aircraft.
"The work we are doing today is transforming our facilities for the next generation of air superiority," said Brig. Gen. Mark Slominski, Executive Director of AFCEC Built Infrastructure and Chief Facilities Officer. "We deliver design and build solutions that optimize training capabilities, increase facility resiliency, and give tomorrow's Airmen and Guardians a competitive advantage over our adversaries. »