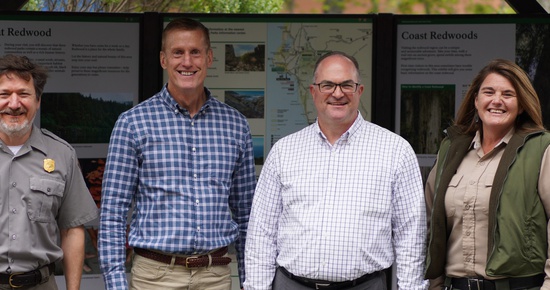 ---
Jessica Cejnar Andrews / Today at 2:14 p.m. / Community, Education, Parks
State Parks awards $700,000 to Ed's Del Norte County office to improve outdoor access
---
For most Del Norters, the thought of not having stood under a redwood or walked across the sand of a local beach at least once may be unimaginable.
But for many students, seniors, and people with mobility issues, not being able to access state, state, and local parks within minutes of their homes is a reality.
"We have kids who live in Crescent City who said they've never been to the beach. Some of them didn't know what a tidal pool was," said Del Norte County Schools Superintendent Jeff Harris. Wild Rivers Outpost Thursday. "We asked kids, 'What's one thing you always wanted to do but never did?' We are talking about eighth grade and high school kids. They never fished, they never kayaked, they never hiked, they never camped overnight – we heard that stuff over and over again.
Because of these stories, the Del Norte County Office of Education, in partnership with Redwood National and State Parks and the Redwood Parks Conservancy, received $700,000 in state access grants. and outdoor learning (GOAL).
Part of a total of $57 million funded by the California State Parks Outdoor Equity Grant Program, Del Norte's grant aims to help parents become better performers; bring the outdoors into the classroom; integrate nature-based learning into their professional technical training courses and help students, seniors and other community members experience nature through history, as described in their project description.
According to Harris, the $700,000 grant will pay for an RNSP employee who will be paired with an employee from the County Education Office who will work at the Redwoods Family Resource Center. They will be running two different programs, one that will provide parents with information and resources on child-friendly parks to take their children to.
The second program will develop environmental education, including leadership, conservation and stewardship and incorporate it into a mobile classroom that will visit Del Norte schools, Harris said. He compared it to visiting one of the Redwood National and State Parks Visitor Centers and said the DNCOE agreed to contribute $100,000 toward the purchase of the van that will house the classroom.
But the grant will fund even broader programs, Harris said, though much of what that will look like is yet to be determined. The DNCOE's objective is to make the programs operational by the end of August or the beginning of September. Harris said county education officials are also working with the Redwood Parks Conservancy and Redwood State and National Parks officials to be able to fund programs past the grant expiration date in three year.
"It's designed so everyone in the community — students, families, multi-generational groups, seniors — can get out and experience local, state, and national parks," Harris said.
"There's a wide variety of things like biking, fishing, hiking, art in the park. Just all kinds of stuff – beach cleanups. There are connections (Vocational Technical Training) to get kids who have gone through CTE programs to understand the jobs available in national and national parks behind the scenes. So there's just a wide variety of tracks.
Trips include visiting Howland Hill Outdoor School, beach cleanups at South Beach and Crescent Beach, and exploring Earl's Lake Nature Preserve, Tolowa Dunes State Park, and Tolowa Dunes State Park. State Jedediah Smith Redwoods.
Other activities offered include holding an Art in the Park program at Florence Keller County Park, Camping 101 at Redwood National and State Parks and Sue-Meg State Park, Fishing 101 on the Smith River and youth participation in the North Shore Junior Lifeguard Program. at Enderts Beach and South Beach.
One thing some Del Norte County residents may take for granted is the ability to travel to some of the more remote locations in the community, Harris said. With state and national parks employees partnering with the DNCOE for the GOAL grant, they can give seniors and people with mobility issues access to places they might never see. otherwise, Harris said.
"We all think that's pretty cool," he said. "This is the first grant like this, according to the people at the national park. The first grant of its kind ever awarded in Del Norte County.
California State Parks has awarded 125 Outdoor Equity Grants to communities across the Golden State. According to its website, Outdoor Equity Grants seeks to establish local activity centers and trips to natural areas for underserved communities.
---
SHARE →