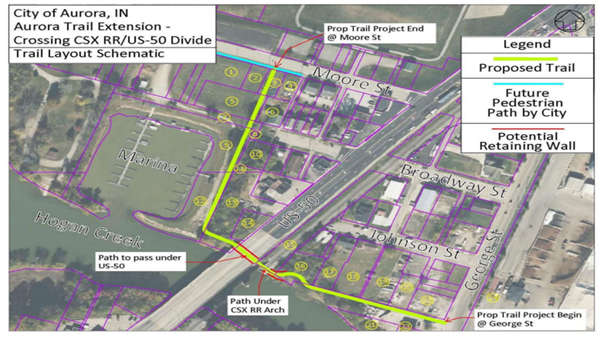 A proposed trail would connect Aurora's downtown parks and Dearborn trail system to the North Quarter.
Photo provided.
(Aurora, Ind.) – The City of Aurora is accepting proposals for a bicycle and pedestrian master plan.
Aurora is home to the Dearborn Trail, an approximately 5.5 mile paved trail along the Ohio River, connecting Greendale, Lawrenceburg, and Aurora.
In December 2021, Aurora successfully applied for funding through the Indiana Department of Natural Resources (Next Level Trails Grant) to build the Northside Trail Connector.
The $1.3 million project will connect Aurora's downtown parks and existing Dearborn Trail network to the Northside neighborhood, Little League and PeeWee football fields, municipal swimming pool and Aurora Community Center (ARCC ) by providing a safe way for pedestrians to cross US 50.
The main objectives of this project include:
1. Create an understanding of the actual prevalence of walking and cycling currently in the community and increase the number of cyclists and walkers in the community.
2. Increase the number of people who walk and cycle for daily transportation purposes, such as commuting to work, walking or cycling to school and shopping.
3. Provide guidance and priorities for implementing programs, policies and infrastructure to support walking and cycling with a wide range of funding and support.
According to City Manager Derek Walker, the city received $20,000 in funding through the Indiana State Department of Health to develop a bicycle and pedestrian master plan.
Proposals and Statement of Qualifications must be submitted by July 22.
The selected company will participate in carrying out an analysis of existing conditions, meet with the advisory committee and the public, prepare the draft plan, develop plan priorities and adopt the plan.
The city hopes to present the plan for adoption by May 2023.
For more information, visit Microsoft Word – 2022-06-23 RFQ Bicycle and Pedestrian Plan (aiircdn.com).
RELATED STORIES
City of Aurora Receives Major Grant for Upper Level Trails