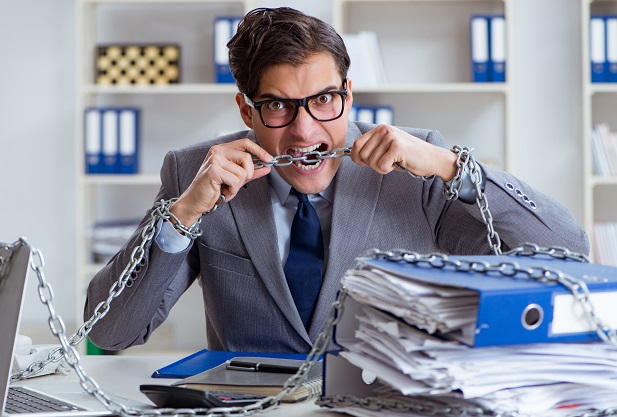 Employers Failing to Address Root Causes of Burnout, Says New Report McKinsey Institute of Health suggests. The institute found that when it comes to employee burnout, companies are doing more to address the symptoms than the causes of the problem.
Institute researchers found that one in four employees who participated in the survey reported symptoms of burnout. The survey, conducted earlier this year, interviewed 15,000 employees and 1,000 HR decision makers in 15 countries.
According to the report, growing awareness of employee burnout and the accompanying turnover has led employers to invest more in mental health and wellness programs. And while it's important to address these areas, the survey suggested that wellness programs and mental health apps by themselves don't address the roots of the problem in the workplace.
"As commendable as these efforts are, we found that many employers focus on individual-level interventions that correct symptoms, rather than addressing the causes of employee burnout," the report said. "Using these types of interventions can lead employers to overestimate the impact of their wellness programs and benefits and to underestimate the critical role of the workplace in reducing burnout and job loss. supporting employee mental health and well-being."
Toxic behavior leading to burnout
The report stated that toxic behavior at work was by far the greatest predictor of employees reporting symptoms of burnout and intending to quit their jobs.
"Toxic behaviors at work represent a major cost to employers – they are strongly implicated in burnout, which correlates with intention to leave and ultimately leads to attrition," the report states. "In our survey, employees who report having high levels of toxic behavior at work are eight times more likely to experience symptoms of burnout. In turn, respondents with symptoms of burnout were six times more likely to report that they intended to leave their employer in the next three to six months.
The report notes that some employers are responding to employee burnout by providing resources to increase worker resilience and adaptability. However, according to the report, this was not enough.
"The findings of our survey and global research are clear. Burnout is experienced by individuals, but the most powerful drivers of burnout are systemic organizational imbalances between job demands and resources," the report states. "Thus, employers can and should view high rates of burnout as a powerful warning sign that the organization – not the individuals who are part of the workforce – needs to undergo significant systematic change. ."
Opportunities to create meaningful change
The study noted that there is still much to learn to address and reduce toxic workplace behaviors and other issues that lead to burnout. But he also said there are early signs of how employers can begin to address these issues.
"Taking a systems approach means tackling both toxic behaviors in the workplace and redesigning work to be inclusive, sustainable and supportive of individual learning and growth, including skills to adaptation of leaders and employees," the researchers said. "It means rethinking organizational systems, processes and incentives to rethink work, job expectations and team environments."
The survey found that inclusiveness is the top predictor of work engagement and job satisfaction, as reported by employees. This was true in all the countries studied, and inclusiveness is almost three times more predictive than access to resources alone, according to the study.
The report also noted that home and family-oriented benefits can play an important role in employee retention, as many workers report that family considerations affect their employment decisions.
"Expanding childcare, nursing services or other home and family-focused benefits could help keep these employees from leaving and show you appreciate them," the report says. "Patagonia, long the flagship of progressive workplace policies, is retaining nearly 100% of its new mothers with on-site childcare and other parenting benefits."
The report concludes by saying that employers now have the opportunity to address employee concerns in the workplace and play a role in improving their lives.