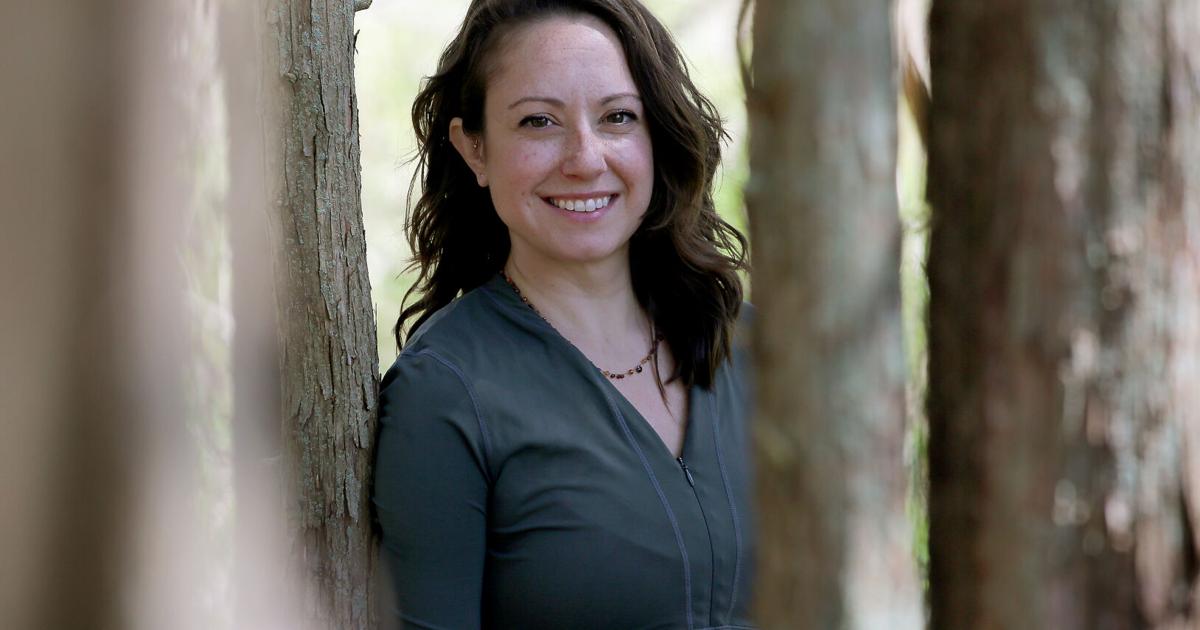 WEST – It was days before Earth Day, and Lauren Barber, conservation programs manager for the Westerly Land Trust, was walking through Riverwood Preserve – 148 acres of woodland, rocky ridges and freshwater wetlands located just off Old Hopkinton Road.
Barber, 31, a lifelong outdoors enthusiast who met her husband – Westerly native Willie Barber – when the two were teaching marine science on Catalina Island off the southern California coast, came to Riverwood to talk about a new program at the land trust, one that has grown rather organically throughout the pandemic.
Called "Wellness in the Woods," the program "aims to connect mind, body, spirit and the great outdoors," Barber said, pointing to the series of scientific studies touting the health benefits of moving from time outdoors.
Given that the land trust understands nature's myriad benefits for mental and physical health, she said, developing a new wellness initiative made perfect sense.
"I believe we all yearn for nature," said Barber, who has worked for the Conserve Wildlife Foundation of New Jersey, Cape May Whale Watch & Research Center, Catalina Island Marine Institute and New England Science & Sailing. "And everyone can enjoy the time spent outdoors."
While the pandemic has had its obvious downsides, it has also sparked renewed interest in nature, she continued, and in the 35-year-old land trust with its 31 properties totaling nearly 1,700 acres.
The land trust and its properties have been enjoying something of a boom in popularity since the pandemic took hold two years ago, Barber said as she walked along land that features quarry remnants, views on the river and a breathtaking descent through a magnificent gorge.
Barber, a New Jersey native who moved to Westerly in 2015, said there has been a marked "upsurge" in interest and membership during the pandemic, and many new visitors to trust sites. land.
"There were a lot of pedestrians," she said, "a lot of interest."
"People want to be outside," continued Barber, the mother of a one-year-old son named Weston Paul. "They want to be in nature and want more access to open land."
Wellness in the Woods, she said, was inspired by this growing interest. Currently, the program offers events such as mindful walks, guided hikes and paddles, outdoor yoga at Winnapaug Preserve and forest bathing, or "the enjoyable practice of spending time in nature. with the aim of improving health and happiness".
Guided hikes take place weekly at one of the local conservation properties or preserves, "single theme" walks take place monthly (and include seasonal refreshments) and guided paddles during the summer months.
During guided hikes and mindful walks, Barber said, she likes to "focus on the journey."
As she passed patches of bright green moss and budding ferns, Barber, who is also a yoga teacher at Barre Coast (she teaches vinyasa yoga and prenatal and postnatal yoga), said interest in the Land trust programs continued to grow, staff will continue to explore new programs.
There was talk of creating a program with a herbalist and an event called "Gong Bath" that involves the healing power of sound.
"We want to expand our programs," Barber said. "We are open to ideas and we are open-minded."
There are already plans for a summer solstice event, she said, and of course there are plenty of other programs on the regular schedule, aside from the Wellness in the Woods initiative.
The land trust, which recently acquired 21.47 acres of land in the Potter Hill area of ​​Westerly called Cottrell Family Preserve, bases its operations at Barlow Nature Preserve on Westerly-Bradford Road and sponsors the seasonal farmer's market held at the center -City of Westerly.
"We also want to be a resource for the community," Barber said, noting that the land trust partners with a number of local organizations – Westerly Track & Athletic Club, for example, and Barre Coast Yoga – when developing programs.
Deirdre O'Connor of Westerly, a retired naturopath who leads forest bathing events at the Wahaneeta Preserve, said that "living in a community where there is an active organization supporting the connection of body, mind and spirit in the great outdoors" gives her "great happiness and hope".
"It gives me great joy to align myself with an organization with this type of mission," she said.
The programs and activities of the land trust, according to its mission statement, "focus on the protection and improvement of the environment, agriculture and water resources and on the "sense of place". from the community".
"Westerly is recognized as a place of special charm and attractions that are a source of pride for its residents and a magnet for tourists and new residents," the statement continued. "The Westerly Land Trust aims to protect and enhance that reputation."
O'Connor, who also speaks of the healing power of nature, said she was "consistently impressed by the energy, passion and commitment" of land trust staff.
The more opportunities to share events that provide "respite and relief," the better, she said.
Back in Riverwood, which was acquired by the land trust in 2002 as a gift from the Nature Conservancy, Barber passed patches of bright green moss and budding ferns. Soon, she says, the property will be resplendent with colorful rhododendrons and mountain laurels.
"It's a hidden gem," Barber said. "Westerly is a gem."