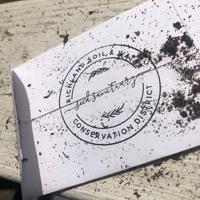 Richland County will provide residents with free seeds to start their home and community gardens for spring starting March 1. The free seeds are the result of a new partnership and grant from Dominion Energy.
Residents visiting the Richland Library Eastover (608 Main Street) may select up to four seed packets per household, per visit. A list of available seed varieties and recommended planting dates is available online.
The seed donation is made possible through a partnership between the Richland Soil and Water Conservation District (RSWCD) Seed Sanctuary and the Richland Library, with additional funding provided by an Education Grant and $5,000 environmental stewardship grant from Dominion.
"Richland Library Eastover is thrilled to partner with RSWCD and increase equitable access to resources in our community," said Kimberly Jones, Director of Richland Library Eastover. "The Seed Sanctuary program will allow residents of our community to continue to learn and grow in their gardens and share their love for growing new and exciting things with their families."
In addition to opening the distribution location in Eastover, RSWCD will use the new grant funding to host a traveling "pop-up seed sanctuary" to help distribute seeds at community events, festivals, producers and other functions throughout Richland County.
Availability of pop-up seed sanctuaries is limited and requests will be fulfilled on a first-come, first-served basis. To request an appearance at a pop-up seed sanctuary, event coordinators can email Mary Hannah Lindsay, RSWCD Community Outreach Coordinator via email at [email protected]
RSWCD launched its Seed Sanctuary program in 2020, providing free seeds to residents to encourage home gardening and pollinator conservation. Initial orders were fulfilled by mail as many public spaces were restricted due to physical distancing requirements.
In the first 18 months of the initiative, RSWCD provided some 13,000 seed packets to nearly 3,000 people. With the new location of the Richland Library Eastover and pop-up seed sanctuary, RSWCD staff hope to encourage even more residents to start or expand their home and community gardens.
"It's wonderful to finally have the opportunity to offer an in-person seed sanctuary," Lindsay said. "I hope for the residents of Richland County, this initiative will help plant the seeds of passion for home gardening and environmental stewardship."
The RSWCD Seed Sanctuary is made possible by a team of community volunteers who help prepare and label seed packets for distribution. Those interested in volunteering are encouraged to apply online.
Additional information about RSWCD or its programs can be sent to [email protected]