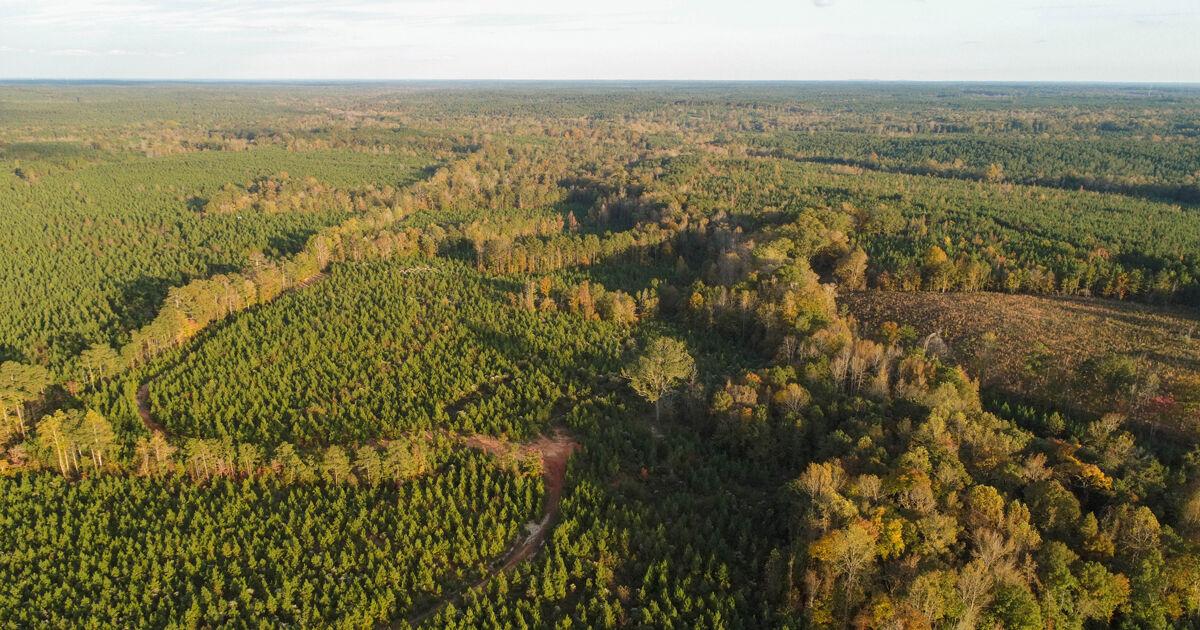 The Greenville and Spartanburg-based conservation organization Upstate Forever protected nearly 3,600 acres of private and public forests, farmland and green space in northern South Carolina in 2021. Other projects where Upstate Forever has been integral to the effort's success include nearly 900 additional acres.
Conservation projects completed by Upstate Forever in 2021 include:
In the county of Abbeville,
669 acres on two properties containing hardwood and pine forests, wetlands and wildlife habitats that play a role in safeguarding the water quality of the Savannah River, the county's only source of drinking water. 'Abbeville. Funding from the South Carolina Conservation Bank (SCCB) has helped make these successful conservation projects possible.
In Greenville County,
Spring Park Inn and grounds, a 19

and

-century home and its surrounding 20 acres in the heart of downtown Travelers Rest. The Travelers Rest Historical Society is currently working to restore the historic property. A grant from the SCCB made possible the conservation easement that protects the land from future development.
300 acres in partnership with the South Carolina Department of Parks, Recreation and Tourism (SCPRT). The property, known as the White Tract, was originally purchased by The Nature Conservancy (TNC) following a multi-year campaign to raise over $2.2 million. to obtain this large area. TNC then transferred ownership of the property to SCPRT, which partnered with Upstate Forever to place a conservation easement on the land. Although not currently open to the public for outdoor recreation, future public access is being planned to help meet the growing demand for natural spaces and expanding access to the park. along the Blue Ridge escarpment. Funding from the Daniel-Mickel Foundation helped make this conservation success possible.
Calico Vineyard, a 113-acre vineyard and family farm. With currently and planned protected properties located nearby, protecting Calico Vineyard helps safeguard agriculture, scenic views, wildlife habitat and water quality. water in this rapidly developing region. Funding from the SCCB and Greenville Women Giving contributed to the success of this conservation project.
In Greenwood County,
Over 400 acres of hunting and woodland land, known as Bent Ear Farms. This property is rich in flora and fauna including mature hardwood forests, native plant species and wildlife. Directly upstream from Greenwood Lake with over 3 miles of frontage on Turkey Creek, its conservation directly contributes to water quality in the area.
In Laurens County,
Gobblers Roost, a 1,020 acre timber and hunting property in Laurens and neighboring Newberry County. Funding from the SCCB and the Upstate Land Conservation Fund (ULCF) has made the conservation of this property possible, ensuring the permanent protection of its natural and landscape values.
A 415 acre network of waterfront buffers in Laurens and Newberry counties near the town of Cross Hill. The Saluda Mitigation Bank protects riparian buffers and wetlands along Mills Creek, Mudlick Creek and several tributaries of the Saluda River watershed.
In Oconee County,
Taychoedah, a 42-acre property near Lake Keowee with habitat for the rare Oconee bell. The protection of properties such as this, located within the known geographic range of its historic distribution and in suitable moist and wooded conditions, is imperative to support the future of this rare and endemic plant. Funding from the Oconee County Conservation Bank (OCCB) supported this conservation project.
A 38-acre parcel in the community of Whetstone, a priority conservation area due to its proximity to the Wild & Scenic Chattooga River and Sumter National Forest. This property contains open pasture and nearly ½ mile of frontage along Whetstone Creek, a major tributary of the Chattooga. Funding from the SCCB and the OCCB ensured the success of this project.
And in the county of Spartanburg,
88 acres of land on Lawson's Fork Creek. Containing wetlands and stream images, and adjacent to Wofford College's Goodall Environmental Center and Spartanburg Area Conservancy's Glendale Shoals Preserve, this protected property has significant natural, educational and recreational value. Funding from the ULCF contributed to the protection of this property.
In addition, two amended easements added more than 470 acres to existing conservation lands in Laurens and Anderson counties. The two properties, originally protected in 2009, now protect an additional acreage that includes prime farmland soils, woodlands and wildlife habitats.
Other projects where Upstate Forever's support has been integral to the success of the effort include seven properties in Oconee County:
Historic Crawford Mill, approximately 35 acres along Cherokee Foothills Scenic Highway 11. The property has a significant range of cultural and natural resources including Native American petroglyphs, a bicentennial farm with 20 acres of pasture and frontage on Fair Play Creek . The non-profit organization Foothills Farmstead will manage the property as a public park and educational center. Upstate Forever supported the Oconee Soil and Water Conservation District on this project, and funding from the SCCB and ULCF ensured its success.
Whetstone Creek Preserve, 155 acres was recently designated a conservation priority by the U.S. Forest Service in the Sumter National Forest.This conservation project helps eliminate a major source of pollution in the Chattooga River and protects a potential site of a village Cherokee where a trade trail once passed. This partnership project with the Naturaland Trust, the Natural Resources Conservation Service (NRCS) and the US Forest Service received funding from the OCCB and the SCCB.
170 acres near the towns of Walhalla and Westminster. A conservation easement on this land helps protect a tributary of the Chauga River, as well as the rural character of the community and a growing footprint of conservation properties in the area. Upstate Forever supported the Oconee Soil and Water Conservation District on this project, and SCCB and OCCB funding helped make it possible.
A 463-acre collection of properties known as Oconee Bells Preserves in partnership with Naturaland Trust. These three patches are located near Devils Fork State Park and provide critical habitat for the rare Oconee bell plant. These properties will be included in the SCDNR's Heritage Preserve program. Protection of this critical habitat was made possible through support from Oconee Forever, the SCCB, and the Keowee-Toxaway Habitat Enhancement Program, a cooperative initiative of Duke Energy.
56 agricultural acres in the "Area of ​​Concern" designated by the Oconee Soil and Water Conservation District for important soil resources. Upstate Forever supported the Oconee Soil and Water Conservation District on this project, and SCCB and OCCB funding ensured the success of this project.
"Despite another year of unprecedented uncertainty and challenges, Upstate Forever's land conservation team has worked with landowners and partner organizations to permanently protect a record acreage in 2021," Scott Park said. , Glenn Hilliard, Land Conservation Director of Upstate Forever. "As upstate farmers and landowners face increasing development pressure and demand for accessible green spaces increases, we must act now to protect more special places upstate. that our communities cherish."
Upstate Forever protects land in partnership with landowners through conservation easements, voluntary contracts that allow the landowner to legally restrict certain land uses on their property, such as the development of residential subdivisions, commercial operations or industries, while allowing traditional rural land uses such as agriculture, grazing, hunting and logging to continue. This agreement is permanent and remains with the land even after it has been sold or bequeathed to heirs.
Since its founding in 1998, Upstate Forever's nationally accredited land trust has permanently protected nearly 30,000 acres through conservation easements in the ten-county region of Abbeville, Anderson, Cherokee, Greenville, Greenwood, Laurens, Oconee, Pickens, Spartanburg and Union. .