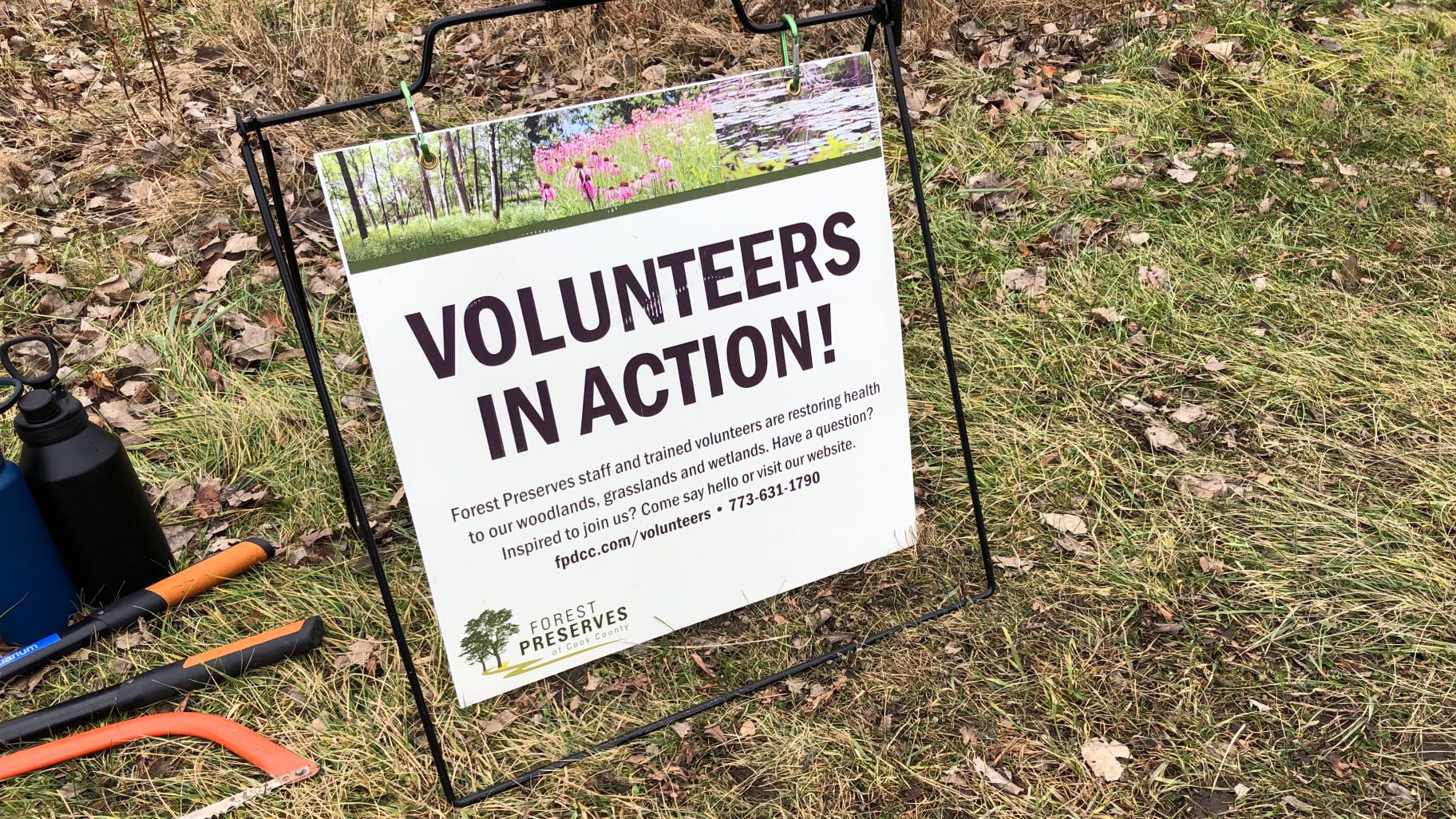 (Patty Wetli / WTTW News)

In honor of Monday's Martin Luther King Day of Service, Cook County Forest Reserves is hosting volunteer activities at several sites in the forest reserve district.
Opportunities include habitat restoration projects and self-directed trash cleanups.
"The lessons Dr. King left us about the need for fairness and the power of community are a transcendent gift for every American. Every day we can choose to make a difference," said Toni Preckwinkle, chair of the Cook County Board of Trustees, who will be participating in events at the Sand Ridge Nature Center on Monday.
Further information is available online about ways to volunteer in forest reserves throughout the year.
On Monday, bags and gloves will be provided to volunteers at the following locations:
— Sand Ridge Nature Center, 15891 Paxton Ave., South Holland; 10 a.m. to 2 p.m., includes ecological restoration and invasive species removal and a self-guided walk on the Poetry Trail.
– Crabtree Nature Centre, 3 Stover Road, Barrington Hills; 10 a.m. to 2 p.m.
– Little Red Schoolhouse Nature Center, 9800 Willow Springs Road, Willow Springs; 10 a.m. to 2 p.m.
— River Trail Nature Center, 3120 Milwaukee Ave., Northbrook; 10 a.m. to 2 p.m.
– Sagawau Environmental Learning Center, 12545 West 111th St., Lemont; 10 a.m. to 2 p.m.
— Trailside Museum of Natural History, 738 Thatcher Ave., River Forest; 10 a.m. to 2 p.m.
– Dan Ryan Woods Visitor Center, West 87th Street and South Western Avenue, Chicago; noon to 3 p.m. Meet at the Dan Ryan Woods Pavilion. Includes a self-guided storytelling trail, treetop walk, and activity bags to learn at home.
— Caldwell Woods, West Devon Avenue and North Nagle Avenue, Chicago; 1-3 p.m.
— Miller Meadow South, 1st Avenue South, Forest Park; From 11 a.m. to 2 p.m., meet at Grove #6.
– Sauk Trail Woods-North, West 26th Street west of Euclid Avenue, South Chicago Heights; 10 a.m. to 1 p.m.
Contact Patty Wetli: @pattywetli | (773) 509-5623 | [email protected]
---