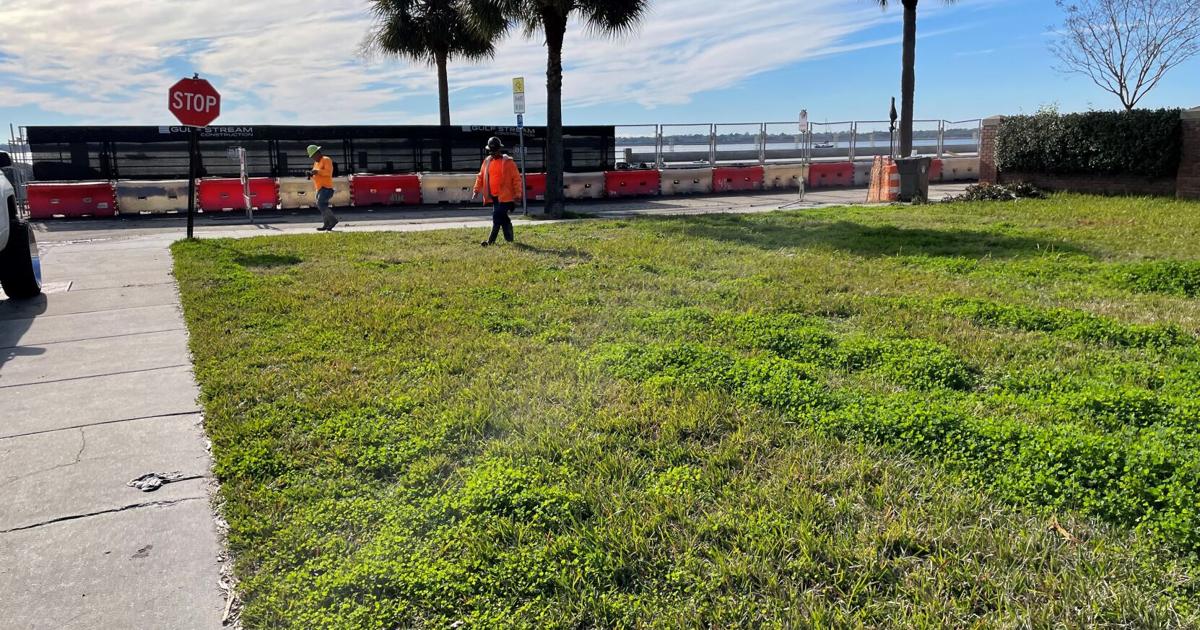 Many people traveling along Charleston's Low Battery might be looking at the vacant grassy lot at 56 Murray Blvd. and I wonder when it could be sold to someone who will build a new house there by the water.
The quick answer is "Probably never", but there is much more to the history of this property. Two decades ago it played a key role in saving the city's worst water flow (its raw sewage) and now it is expected to help deal with the city's increasingly problematic flooding. Plus, it will likely be a small passive urban park someday.
To understand all of this, you have to go back in time and find out what is going on here underground.
Houses on Murray Boulevard began to appear in the early part of the 20th century, after the city extended the Low Battery and filled the lowlands generally west of Legare Street and south of South Battery. Vacant residential lots continued to dot the street until the turn of this century, but now only this one remains.
It was owned by a private investor who thought about building a house there at one point, but he sold it in 2003 to the Charleston Public Works Commissioners (now Charleston Water System).
The utility was willing to pay $ 1.5 million for the lot as it urgently worked to replace its failed 40-year-old sewer tunnel connecting the peninsular town to its Plum Island processing plant.
Had this tunnel been completely blocked off, the city's sewage would have had no other place than the harbor, as was done historically until Plum Island became operational around 1970.
While the tunneling was done out of sight, the utility needed a place to launch the drilling equipment and to store other materials during the work.
"We ended up paying a little more than we wanted, but we didn't have a lot of choice," recalls Kin Hill, CEO of Charleston Water System. "We needed a little leeway, and luckily that batch was there. It allowed us to breathe a sigh of relief.
Once the work was done, the utility removed everything, planted some grass and largely forgot about it.
Since the utility could gain emergency access to the new tunnel, if required, via the public right-of-way near Murray and Limehouse Street, two city-owned streets, some within the gas supply system. Charleston Waters have spoken of releasing the lot as a residential site. .
As this internal discussion unfolded, some at Town Hall realized that property could play a different but equally important public role in helping deal with Peninsular flooding, which can be particularly severe in this region. part of the city built on reclaimed marshes. This is why the city council buys the lot from the power company for $ 2.5 million. Its strategic location could make it suitable for a pumping station that would help drain parts of the peninsula – a series of these pumps are being considered if the city implements an Army Corps of Engineers plan to add perimeter protection. around the peninsula's 8 miles of waterfront.
The site is also not far from the southern terminus of the city's first ambitious stormwater management infrastructure: a 19th-century brick underground tunnel that stretches from Spring Street, typically along Rutledge Avenue. to the Ashley River. Apart from the Corps of Engineers project, the city sought to renovate these 19th century tunnels so that they function better. This lot might help with that.
Any pump station in the field should be largely underground, with perhaps only a small control panel visible above. Most of the site is expected to become a passive park, city spokesman Jack O'Toole said. The plan has not sparked any controversy, and that makes sense as it is an initiative to help the city tackle its problem # 1: preventing flooding.
The agreement includes an easement to ensure that the Charleston Water System can continue to get the access it needs to its tunnel. "Our hope and our prayers are that we will never need it," said Hill, "but we have it if we do."
The land actually faces a section of the weak battery that the city raises 2.5 feet. Contractors on that job park along the street over there.
Many people traveling along Charleston's low battery over the next decade will likely notice a small park at 56 Murray Blvd. and never wonder why there is no house there.
And many may never understand how important this small plot of land played in building their modern city.