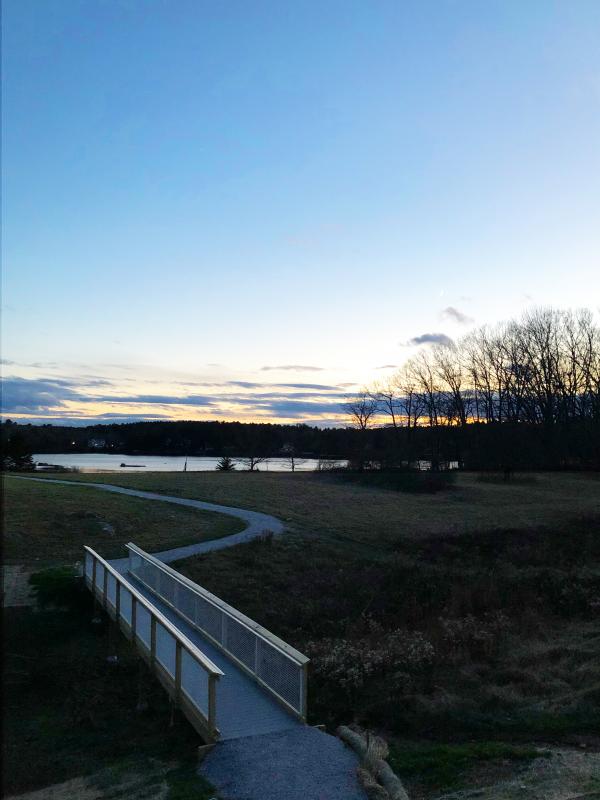 As the darker days of the year approach, with early sunsets and late sunrises, there is less daylight to explore the BRLT reserves. While BRLT properties have traditionally been closed to visitors from dusk until dawn, the Land Trust offers several events throughout the year that allow for night time tours of the trails. Owls roam, night hikes, lantern walks and campfires are all on the schedule for the coming months and provide a safe way to experience BRLT preserves in the dark. In recognition of the Winter Solstice, BRLT will be hosting a Winter Solstice Lantern Walk at Oak Point Farm on Tuesday, December 21 between 4 p.m. and 7 p.m. Come celebrate the longest night of the year with a lightly lit walk to the shores of Hodgdon Cove. Enjoy a moonlit view of the creek and a warm campfire with your BRLT friends!
Winter solstices throughout history have focused on light and warmth, and visitors to BRLT's Lantern Walk will experience both. Guests should arrive anytime between 4 p.m. and 7 p.m. and follow the illuminated lanterns spaced along the half-mile Universal Access Trail circling a freshwater pond, through fields and forests. BRLT staff will be on hand to attend a household warming station.
Bring your thermos full of tea or hot chocolate and enjoy nature from a whole new perspective. Night walks offer a different view of the landscape and allow us to discover fauna that we do not see during the day. Low light also helps intensify our other senses, making us more aware of the sounds, smells, and even the feel of the earth beneath our boots.
Many of our animals in Maine have periods of activity under the cover of darkness, some being completely nocturnal. Nocturnal is a behavior in which animals sleep during the day and are active at night, as opposed to diurnal where animals are active during the day and sleep at night. Nocturnal creatures often have eyes specially adapted to use low levels of light, as well as highly developed senses of hearing and smell. In our area, nocturnal animals include owls, bats, flying squirrels, beavers, coyotes, raccoons, skunks, porcupines, fireflies and crickets.
In addition to nocturnal and diurnal animals, Midcoast Maine is also home to a variety of crepuscular animals. Crepuscular animals are most active at dusk and dawn, also known as the twilight period, and include mink, foxes, bobcats, deer, and moose. These animals are also seen at other times of low light, including cloudy days and moonlit nights. The time at which animals are active depends on various circumstances, including the behavior of other predators or prey, extremely hot or cold temperatures, and local competition.
So whether you are looking for the chance to observe the creatures of the night or just love the beauty of the twilight hours, BRLT invites you to enjoy the wonders of nature while welcoming you during the winter season. This event is free and open to everyone. No registration is required.