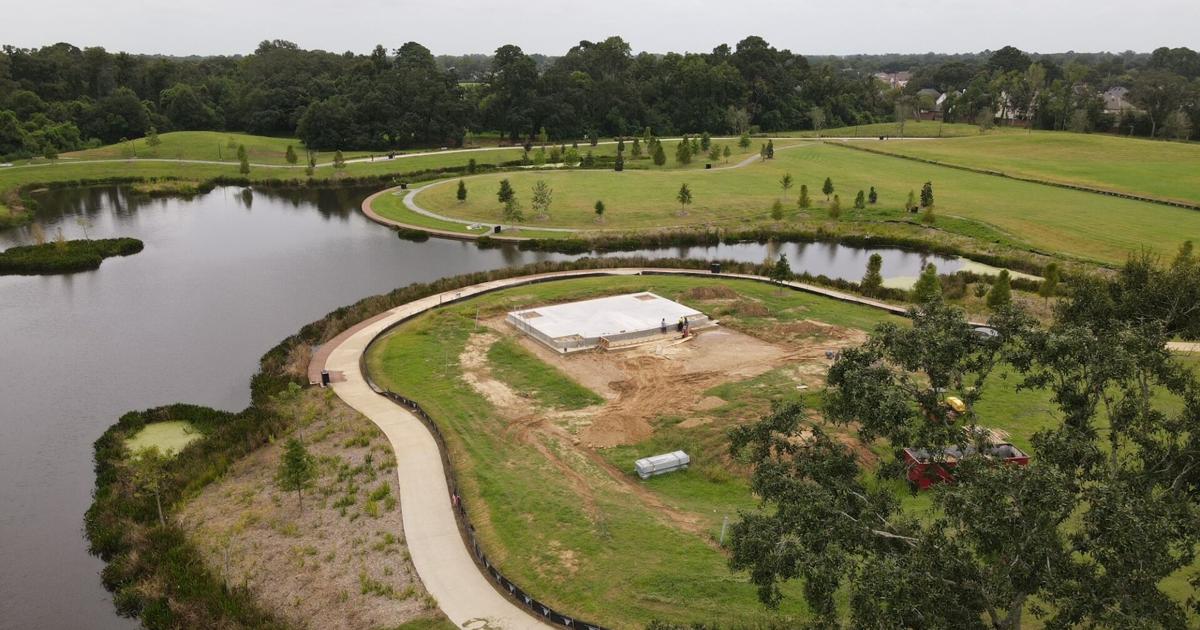 [ad_1]
Moncus Park is preparing to kick off a month-long opening season with a 12-night vacation event, free community programming, and the gradual unveiling of all new features and amenities.
It starts with Christmas in the park, which runs from December 16 to 29, with the exception of Christmas Eve and Christmas Day. The event will feature live music, activities for the kids, local art and food, visits from Santa Claus, a holiday market and more. Volunteers are always in demand and will benefit from free entry! To become a volunteer, visit www.moncuspark.org/christmas for more information.
These events will lead to the official opening of Moncus Park on January 1.
"Our new features will still be under construction, but as each one is completed we'll be having a little community celebration," said Mary Allie Hebert, Marketing Strategist for Moncus Park. "Also, we plan to have a grand finale for the community in the spring once this is all over."
Moncus Park will begin offering free community programming in January, centered around three main pillars: arts and culture, health and wellness, and environmental education. The park has partnered with several community organizations to offer a range of courses and events. Schedules and more details will be released in the coming weeks, but some events will focus on wellness, fitness, music, theater, horticulture, painting and more.
"Park activities are designed to enrich and inspire the life of our local community. Visitors to the park will be able to come and participate in various activities. Check out our calendar to decide which ones interest you, "said Heather Twichell, Director of Events and Programming.
Community support is essential to ensure that Moncus Park remains viable for years to come. As an independent, non-profit park, it does not receive local tax dollars for maintenance, operations, or community programming, and it is not included in the local government's annual budget. On the contrary, all of Moncus Park's operations are funded by general donations and memberships.
"There are so many wonderfully distinct and exceptional aspects to a park like this, and in order to maintain it and ensure its success in the future, operational expenses will be significant," said JP MacFadyen, Executive Director from Moncus Park. "It will most certainly take a village, and that village is all of us. This park is the first of its kind in Acadiana, and we must not only celebrate its uniqueness, but make a commitment to contribute to its sustainability. What better legacy to leave our children and their children? "
There are many ways people can get involved with Moncus Park, including volunteering, becoming a member, attending events, or making a donation.
Several annual membership levels are available and members enjoy various benefits such as Moncus Park newsletters, discounts on park merchandise, discount codes for paid events, and private park tours. Financial donations are appreciated and are accepted year round from individuals and organizations.
For more details on how to support the park, visit www.moncuspark.org/support.
Moncus Park encompasses approximately 100 acres located off Johnston Street in Lafayette and was previously known as UL Horse Farm. Thanks to grassroots support and the collaboration of many partners, the property has become a unique green space for everyone to enjoy. With new features, equipment and events, the organizers said this phase of Moncus Park is incredibly exciting.
"This community has been involved every step of the way, and this must remain true in the weeks, months and years to come in order to maintain and enhance this magnificent natural landscape for its enjoyment today and for future generations. ", they declared. "Moncus Park is a park for all, fed by all, and donors are growing and thriving this community-supported park."
For more information, visit www.moncuspark.org.
[ad_2]