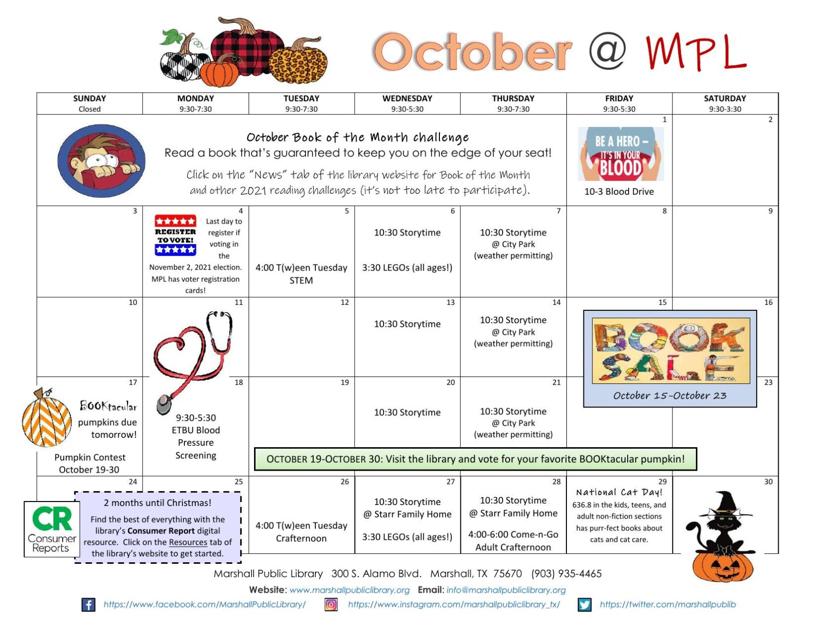 [ad_1]
The Marshall Public Library is planning a treat for its preschool patrons in October with four special outdoor story time events scheduled every Thursday throughout the month.
The first of these outdoor storytime events takes place today at 10:30 a.m. at City Park, with the next two events scheduled for October 14-21.
Children's librarian Felicia Maden said the events were created to bring children and their families outside for the regular story-reading event, to provide a change of scenery.
"I really wanted to do something that was going to get everyone outside this month," she said.
Maden, who joined the library in June, said September was the first time she could start hosting the regular storytime program after COVID-19 was shut down for more than a year.
The program typically takes place twice a week on Wednesdays and Thursdays at 10:30 a.m. at the Marshall Public Library, with a focus on literary enrichment for preschoolers.
The weekly storytime event to be held on Wednesday will be the same indoor reading event that community members have become accustomed to, with Thursday's story time this month moved to La Parc de la La city.
The fourth storytime event will be extra special, with Maden saying that storytime scheduled for October 28 will be held at the historic Starr Family Home site, located at 407 W. Travis St.
This event will feature the regular storytime activities on the theme of the upcoming holidays, with a tip or treatment potentially offered as well.
"It's going to be a lot of fun and scary for the kids," Maden said.
She said since the library reopened a number of its programs for children, adolescents and adults in September, the number of participants has fallen from its pre-pandemic number.
"I hope this helps get the word out and let people know that we have these programs again," Maden said.
Library director Anna Lane said the library is also planning a number of other events in October, including its regular pumpkin decorating contest.
[ad_2]