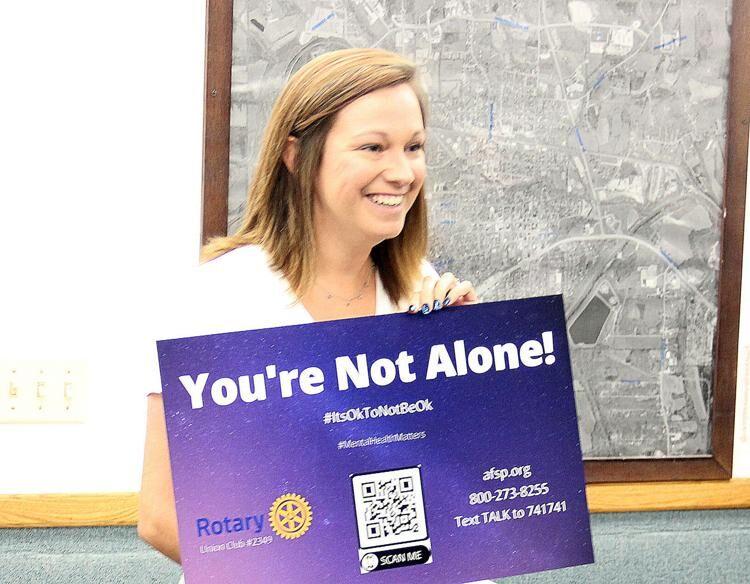 [ad_1]
Amanda Egli said she would go elsewhere to spread her mental health awareness message after a committee made up of members of the Aldermen's Union Council rejected a request to place signs in city parks.
The signs include messages such as "You are not alone! And feature QR codes that, when scanned with a smartphone, would direct people in need of mental health assistance to the appropriate resources. It also featured a website, afsp.org, and a phone number, 800-273-8255, that people could use to get help from the American Foundation for Suicide Prevention.
Egli, executive director of the Union Area Chamber of Commerce which also works on the Franklin County Out of the Darkness march on October 17 in Union, previously said the Rotary Club of Union had the 24 panels made with a grant from Rotary International.
The city's parks advisory board unanimously recommended allowing signs in parks, although city officials urged caution at the August meeting. They expressed similar concerns at the Parks, Buildings, Development and Civil Service Committee meeting on September 20, where the request was denied.
"We have an ordinance which states that it is a violation of the city code to place a sign or an advertisement on public property, that is to say a right of way, parks, whatever," he said. said city administrator Jonathan Zimmermann to the committee. "If you go to our parks right now, we have very limited signage. Most of the signage that you're going to find there is for walking trails, football fields, those facilities.
Zimmermann said he was concerned about what could happen if additional signs were allowed. "You're kind of creating a situation where you're going to have to continue to allow signs, that is, billboards or whatever," he said.
The city does not have other health-related signs in the parks, although it does allow signs indicating donations that have been made to pay for things like benches or scoreboards in the parks, said Zimmermann.
Alderman Paul Arand said the signs could become "too much".
"It's not that it's not necessary and that I wanted to help people who need it, it's just when and if people will come with a multitude of signs," he said.
Arand suggested putting a mental health message on the message board the city shares with the Union branch of the Scenic Regional Library on Highway 47. But city attorney Matt Schroeder said this could then have the same problem. Schroeder said it might be possible to announce events on the electronic board no more than 30 days in advance.
Egli presented one of the panels at the park's board meeting in August, but did not attend last week's meeting where his request was denied. She told the Missourian on Monday that she was placing signs on campuses in the Union R-XI school district, as well as in the Union ambulance district. "We will be talking to more first responders in the region to get them to their locations as well," she said.
Egli does not plan to make any further requests to the city regarding the signs, she said.
"The fact that schools are behind this important cause shows a level of support that not only our children need, but our entire community as a whole needs," she said.
[ad_2]