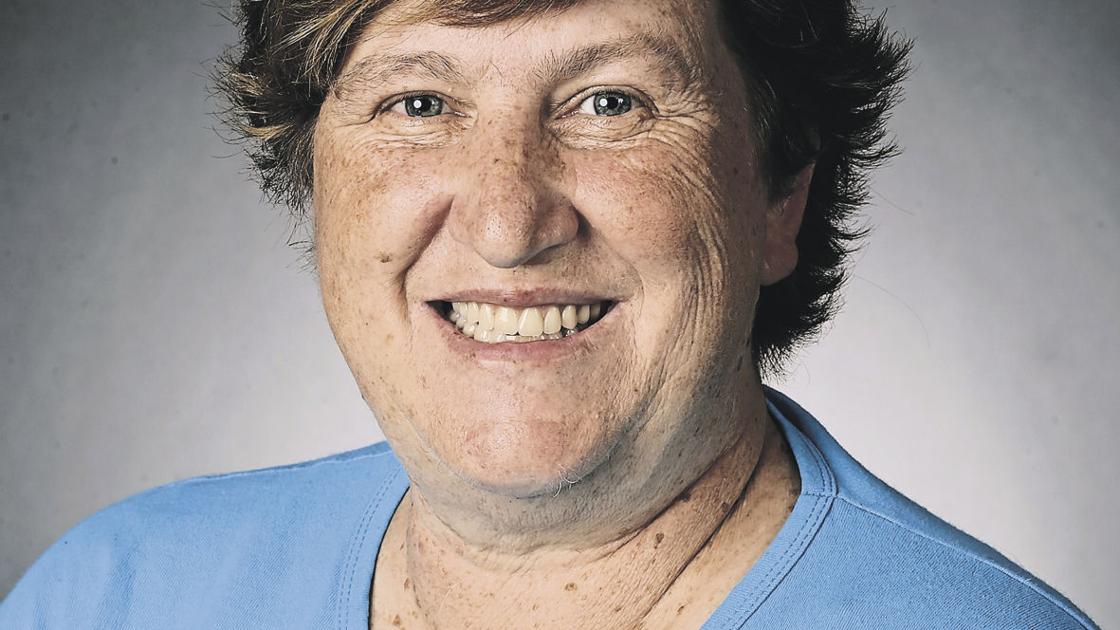 [ad_1]
MAQUOKETA, Iowa – A short distance from the North Fork of the Maquoketa River, where cars and semi-trailers rush to their destination on US 61, there was once a bustling industrial complex and town of company called Hurstville.
From 1871, A. Hurst and Co. extracted dolemite from a nearby quarry. The limestone would be poured into a brick kiln and heated. The heat shattered the powdered limestone stone, which was packed in barrels and shipped by train. At the height of the company's popularity, it was spending $ 40,000 per year on shipping, the equivalent of $ 1.1 million in 2021 dollars.
The town of Hurstville included a school, cooperage, smithy, stables, general store, fire department, and homes for employees and their families. On a hill overlooking it was the home of Alfred Hurst, owner of A. Hurst & Co.
In 1852 the Hurst family traveled from Lincolnshire, England, and landed in New Orleans. They boarded a steamboat that sailed up the Mississippi River, bringing them to Davenport, Iowa. Alfred Hurst was 5 years old.
Hurst grew up in the Quad Cities. As a teenager, he joined the Union army. He fought in the first battles of the Civil War, notably at Shiloh and Fort Donelson, at the age of 15. Captured at Fort Donelson, he escaped during the Second Battle of Memphis. He returned to his regiment and participated in the Battle of Paducah and the Red River campaign.
Returning to Davenport as a Civil War veteran at 19, Hurst was employed by a stonemason, where he learned the craft of masonry.
"He learned lime and mortar and masonry work," said Jessica Wagner, environmental education coordinator for Jackson County Conservation. "He was obviously an entrepreneur. He said 'I can improve this. I can make a better product. ' So he came to Maquoketa, and he found the limestone he was looking for.
A. Hurst and Co. soon operated four ovens 24 hours a day, seven days a week, three seasons of the year. The heat in the ovens was generally kept at 900 degrees.
"They would put the limestone in rail carriages and then use gravity to bring it down to the kilns," Wagner said. "The high temperature of the ovens would shatter the rock into powder that they would put in barrels made by the cooper and then they would send it out. It would be mixed with sand and water to create mortar.
Bringing in his brother, William, as the company's sales manager was a good thing. William Hurst was known to be fiscally conservative. And as the business grew to eventually include a railway line, cattle, hundreds of acres of lumber for harvesting lumber for kilns, and more than 50 employees who worked around the clock. most of the year to operate the ovens, William made sure Hurst & Co. grew at a rate that would ensure its success.
Employees were paying $ 3 a month to rent their homes in Hurstville, the equivalent of $ 79 today. Workers were making 15 cents an hour, which in today's dollars was just over $ 4.
"By working 10 hours a day, they would earn $ 1.50 a day," Wagner said. "They could earn enough to pay their rent in two days. I guess it was a pretty good salary at the time.
By all accounts, Hurst has treated its employees well. Each family had a cash cow donated by the company. During the winter months, when the kilns were not working, he kept the workers employed as loggers, harvesting the wood he possessed for eventual use in the kilns, often taking 800 cords of wood each week to make them. function.
Hurst lime was shipped across the country and it was a popular product: "Gentlemen, I've been handling your lime for years. I want to state that I think your 'best lime on earth' is correct. My clients will not have another, "read a note sent by a South Dakota client in 1875.
Hurst also served on the Jackson County board of directors for five years, then served four terms as a senator from Iowa. In a resolution read to the Senate after his death, he was recognized as "one of the most splendid types of early Iowan."
Advances in mortar and cement followed shortly after Hurst's death in 1915. All four kilns were last lit in 1920. The business closed in 1930. Families moved and Hurstville fell into disrepair.
In 1979, a popular campaign to restore the kilns and preserve the site began when the Hurstville Land and Development Company purchased the town and succeeded in having the site listed on the National Register of Historic Places.
The kilns were restored by the Jackson County Historical Society in the 1980s. Jackson County Conservation maintains the site, which is part of the Silo and Smokestacks National Heritage Area. It operates an interpretive center less than a mile from the Ovens, where visitors can learn more about the area.
For more information on the Silos and Chimneys National Heritage Area, visit www.silosand
Thanks to Jessica Wagner of Jackson County Conservation for touring the Hurstville Lime Kilns, located two miles north of Maquoketa, Iowa on US Highway 161. The site is open year-round from 6 a.m. to 10:30 p.m. groups or families. Contact Jackson County Conservation at 563-652-3783 to schedule a visit with an educational staff member.
[ad_2]